Our wines are the expression of the Chianti Classico area and of our production philosophy. They are characterized by intense aromas, excellent complexity and structure, velvety tannins and high aging potential.
The line that has brought Casa Emma wines to be known and appreciated worldwide. It is thanks to the meticulous attention to detail and the passion of the people involved in the production phase, that led these wines to obtain, year after year, important international awards. These wines are reserved for Trade.
Chianti Classico D.O.C.G.
Sangiovese, Malvasia Nera and Canaiolo
Casa Emma Chianti Classico D.O.C.G is an elegant wine with a floreal bouquet and cherry hints. It has a balanced freshness, good structure and velvety tannins. Aged for 1 year in 500 liter barrels, it has an intense ruby red color with purple reflections. With a lingering finish with good acidity and minerality, it is perfect to pair with pasta and cold cuts.
Chianti Classico Riserva D.O.C.G.
Sangiovese and Malvasia Nera
Casa Emma Chianti Classico Riserva D.O.C.G shows all the power and elegance of Sangiovese, with scent and aromas of red fruit, undergrowth flavors and pepper. With an intense ruby red color with purple reflections, it has a good structure, an excellent tannic texture and a fresh and satisfying finish. Aged 3 years in 10 hl barrels, it's perfect to pair with game and mixed grilled meats.
Chianti Classico Riserva D.O.C.G. Vignalparco
A Chianti Classico Riserva made with Sangiovese grapes, produced in a single vineyard of 2 hectares worked and fertilized with geese. These creatures naturally fertilize the land, they eat the grass between the rows and the insects harmful to the vine, acting as natural protectors for the soil. Vignalparco Riserva is strong personality wine with good structure, freshness, soft tannins and excellent persistence. Aged 2 years in 500 liter barrels it has an intense ruby red color with purple reflections. Perfect wine to pair with grilled red meats.
Chianti Classico Gran Selezione D.O.C.G.
Casa Emma Chianti Classico Gran Selezione D.O.C.G is produced only in the best vintages and with the best Sangiovese grapes. The Gran Selezione is the highest level of Chianti Classico appellation and it shows the elegance and complexity of Casa Emma's wines. With a brilliant ruby red color, it has a great aromatic richness of black berry fruit and pleasant spicy nuances. It is succulent, rich, with a very long finish. Aged 3 years in 10 hl barrels, it's perfect to pair with aged cheeses, hunting and braised meat.
Soloìo

I.G.T. Toscana Rosso
Soloìo is a wine made with Merlot grapes. With clear hints of blackberries and blackcurrants, it has pleasant mineral notes. An intense ruby red color with purple hues, it's concentrated and vibrant with thick and soft tannins and with a very long finish. Aged 18 months in oak barrels, it is perfect to pair with blue cheeses, baked lamb and dark chocolate.
Harenae

I.G.T Toscana Rosso
IGT Harenae is a wine completely vinified and aged in 1000 liter spherical amphoras. It's fresh and crispy, with a rich structure, a good depth and a balanced acidity. It's perfect to pair with cold cuts, cheeses and spicy tomato pasta.
Created from a careful selection of the best grapes from small vineyards parcels, produced in very small quantities, this collection was designed from the idea of creating unique and original wines for our exclusive members. For those who appreciate sensational wines, for those looking for a unique and unforgettable taste. These labels can only be found at our Estate and on our online Wine Boutique.
Chianti Classico D.O.C.G. Vignapantano
Sangiovese, Malvasia Nera and Canaiolo
Chianti Classico D.O.C.G Vignapantano is characterized by floral and red fruit scents. It is a ruby ​​red wine that expresses an extraordinary aromatic complexity, balanced tannins and a long finish. Thanks to its freshness and balanced acidity it is excellent to pair with first courses.
Chianti Classico Riserva D.O.C.G. Vignalparco White Label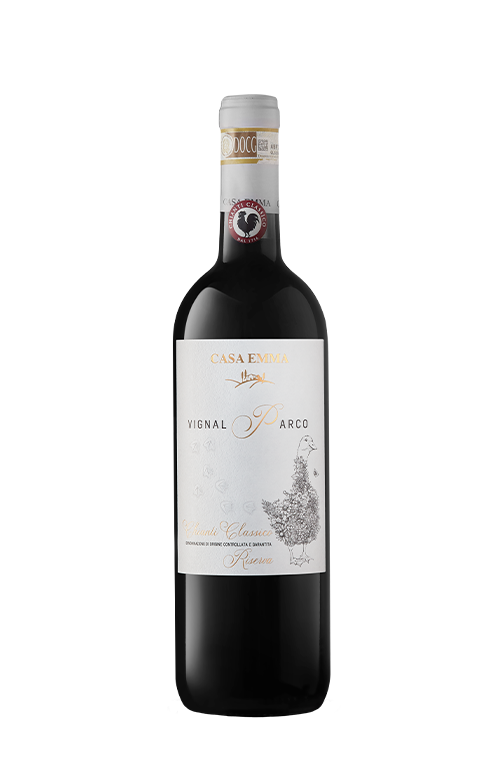 The Vignalparco Riserva white label is the result of meticulous grape selection of the finest Sangiovese varietals grown and harvested from a small, exclusive section of the Vignalparco vineyard, expertly tended to by our domestic geese. This wine possesses a robust and sophisticated character that showcases a full-bodied flavor profile with prominent noted of red fruit, spices, and a refined balsamic finish.
Chianti Classico Riserva D.O.C.G. Fiorella Lepri
Chianti Classico Riserva D.O.C.G Fiorella Lepri is the wine produced with the oldest Casa Emma vineyards. This Riserva is an elegant wine with intense and fruity aromas. With a deep ruby ​​color, it is a full-bodied wine with velvety tannins and a persistent finish. Perfect to pair with meat courses.
Chianti Classico Gran Selezione D.O.C.G. Vignabufati
Chianti Classico Gran Selezione Vigna di Bufati is produced with the best Sangiovese grapes from Bufati vineyard. It is an full-bodied wine, characterized by black berries aromas and spicy notes. It has great elegance and structure, excellent acidity and balanced tannins. With a persistent finish, it is perfect to pair with meat courses and braised meats.
Brunello di Montalcino D.O.C.G.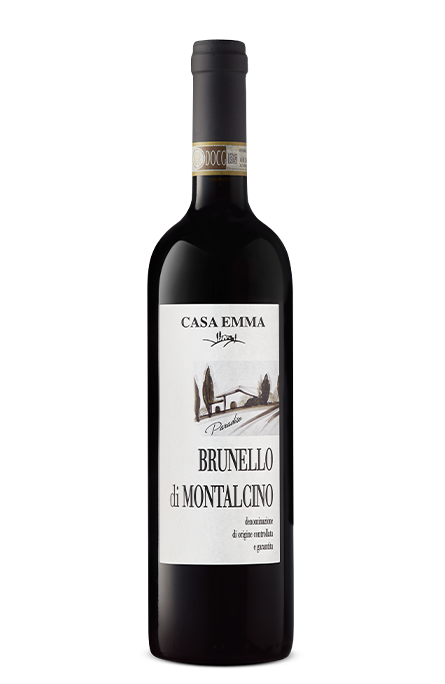 Our Brunello is a red wine of refined elegance and quality. A deep ruby red in colour, with amber reflections, it is aged in oak barrels for at least two years. On the nose, it offers a complex, refined bouquet containing intense hints of small red fruit, vanilla and jam. In the mouth, it is warm, dry, elegant and persistent. Outstanding as a meditation wine.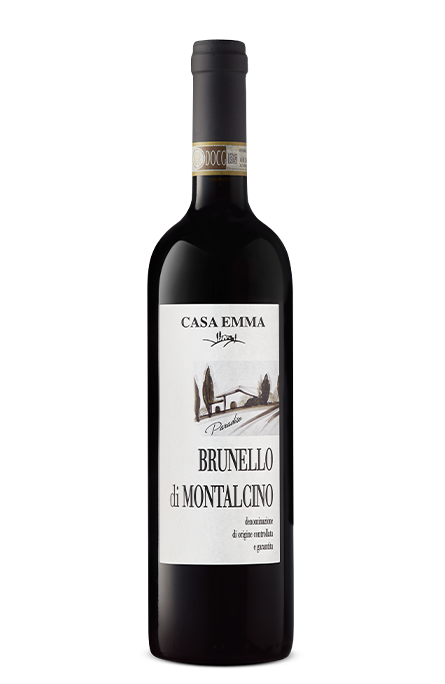 "Il Silenzio" Super Tuscan Cabernet Sauvignon

A marvellously elegant Cabernet Sauvignon evoking a whole series of sensations; powerful, without ever losing its control and freshness, inviting and delicious on the palate.
IGT TuDream is Casa Emma meditation wine. It's characterized by red fruits notes and wild flowers. It has a good structure, with a fresh and dynamic palate, balanced tannins and a pleasant finish of mocha and chocolate. It's perfect to pair with pasta, cheeses, and grilled meat.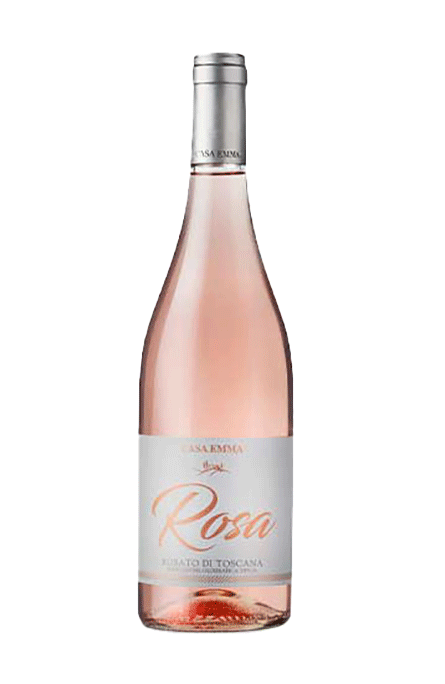 Rosa di Emma

I.G.T. Rosato di Toscana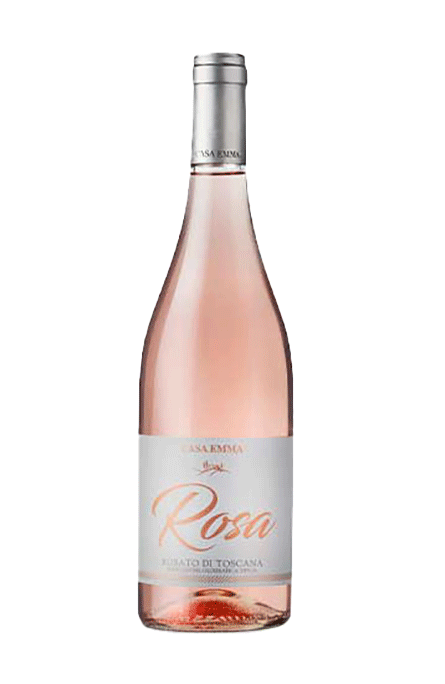 This wine is our Rosé, characterized by fruity aromas, white peach hints and flowers scent. With a brilliant rose color with orange hues, it's elegant, mineral with an agile and slender finish. It's perfect to pair with cold cuts, tomato and grilled fish dishes.
Cortine Bianco I.G.T. Toscana Bianco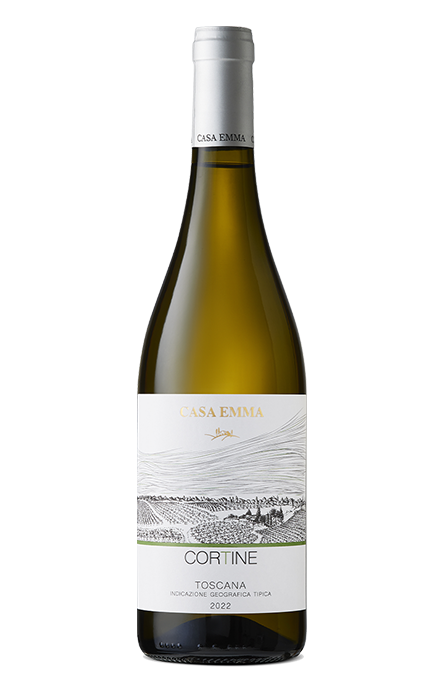 Cortine IGT Toscana Bianco is the famous Casa Emma white wine, obtained from 50 – 80 years old vines. We produce few bottles that are aged in French Oak Barrique. It has a straw yellow with golden reflections color. It is characterized by white fruits scents and wildflowers notes, especially jasmine and acacia. It's a voluminous, elegant and velvety wine, perfect to drink as aperitif and to pair with fish and vegetables.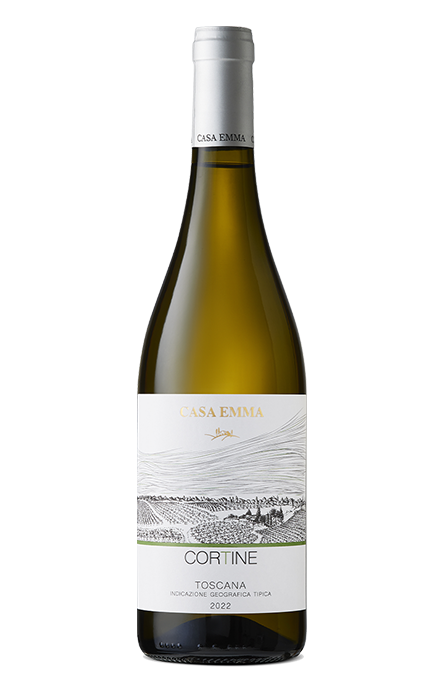 Cortine Oro I.G.T. Toscana Bianco
Chardonnay, Sauvignon Blanc, Vernaccia
Cortine Oro evolved out of Casa Emma's Cortine Bianco. Crystal clear and a strong straw yellow in colour, it is characterised by an aromatic profile featuring delicate citrusy notes and hints of ripe yellow fruit. Left to age 12 months in French oak barrels, it is best enjoyed with shellfish, raw fish or sushi.
Cortine Ambra Orange Wine I.G.T. Toscana

Chardonnay, Sauvignon Blanc
Cortine Ambra is our SuperTuscan Orange Wine. With an intense amber color, it stands out for its enveloping fruity bouquet, perfectly balanced by elegant mineral notes. Made from carefully selected Vernaccia grapes, it is an original macerated wine fermented in contact with the skins for 3 months in Terracotta Amphorae, followed by 12 months of ageing in Terracotta. Excellent with seafood, and ideal with slightly spicy vegetarian dishes.
Centocchi Super Tuscan Toscana Rosso

Cabernet Sauvignon, Petit Verdot, Syrah, Merlot
Centocchi is Casa Emma's version of a blend of Bordeaux grapes. Ruby red with purplish reflections, it offers a delightful combination of aromatic hints of cherry and blueberry with floral and spicy notes on the nose. Aged in a selection of precious French oak woods for 18 months, it is ideal enjoyed with wild game or flavourful vegetarian dishes.
SangiovesE, CABERNET SAUVIGNON
An elegant, warm, full-bodied red characterised by refined tannins, L'Oriolo encloses all the aromatic magnificence that hard work and time have succeeded in transferring from its land of origin to the bottle. Aged 18 months in French oak, it then rests at least 6 months in the bottle. Perfect with meat-based dishes such as roasts and game. The perfect wine for an evening among friends.
100% Cabernet Sauvignon, Il Sussurro is an extremely mouth-filling wine featuring harmonious, velvety tannins. Our enologist's painstaking care has produced a wine offering a refined, classy tasting experience with a long, persistent finish. An excellent accompaniment for meat dishes, also perfect with refined, delicate cheeses.
Sette Carati

I.G.T Toscana Bianco Passito
Malvasia bianca and Trebbiano Toscano
IGT Passito Sette Carati is our sweet white wine made with Trebbiano and Malvasia Bianca grapes. We produce less than 2000 bottles of 375ml every year. The aromatic complexity of this wine depends on the essences of the different wood barrels used to age it. It is named "Settecarati" because of the 7 wood barrels where this wine is aged. With an amber colour and brilliant reflex, Passito Sette Carai is well structured, with a sweetness balanced with a good acidity and a long finish.
White Truffle Balsamic Vinegar
Crafted from the finest Trebbiano grapes, our balsamic vinegar is carefully acetified to perfection. Imbued with delightful fruity aromas and a remarkably low acidity, it is then infused with the sweet, enveloping flavor of white truffle, resulting in an unparalleled sensory experience

Crafted with care from the finest Trebbiano grape musts. Our secret lies in the painstakingly slow, low-temperature cooking process that imbues the product with a rich, high-density texture. To further enhance its depth and complexity, it is then expertly acetified and matured in carefully selected oak barrels.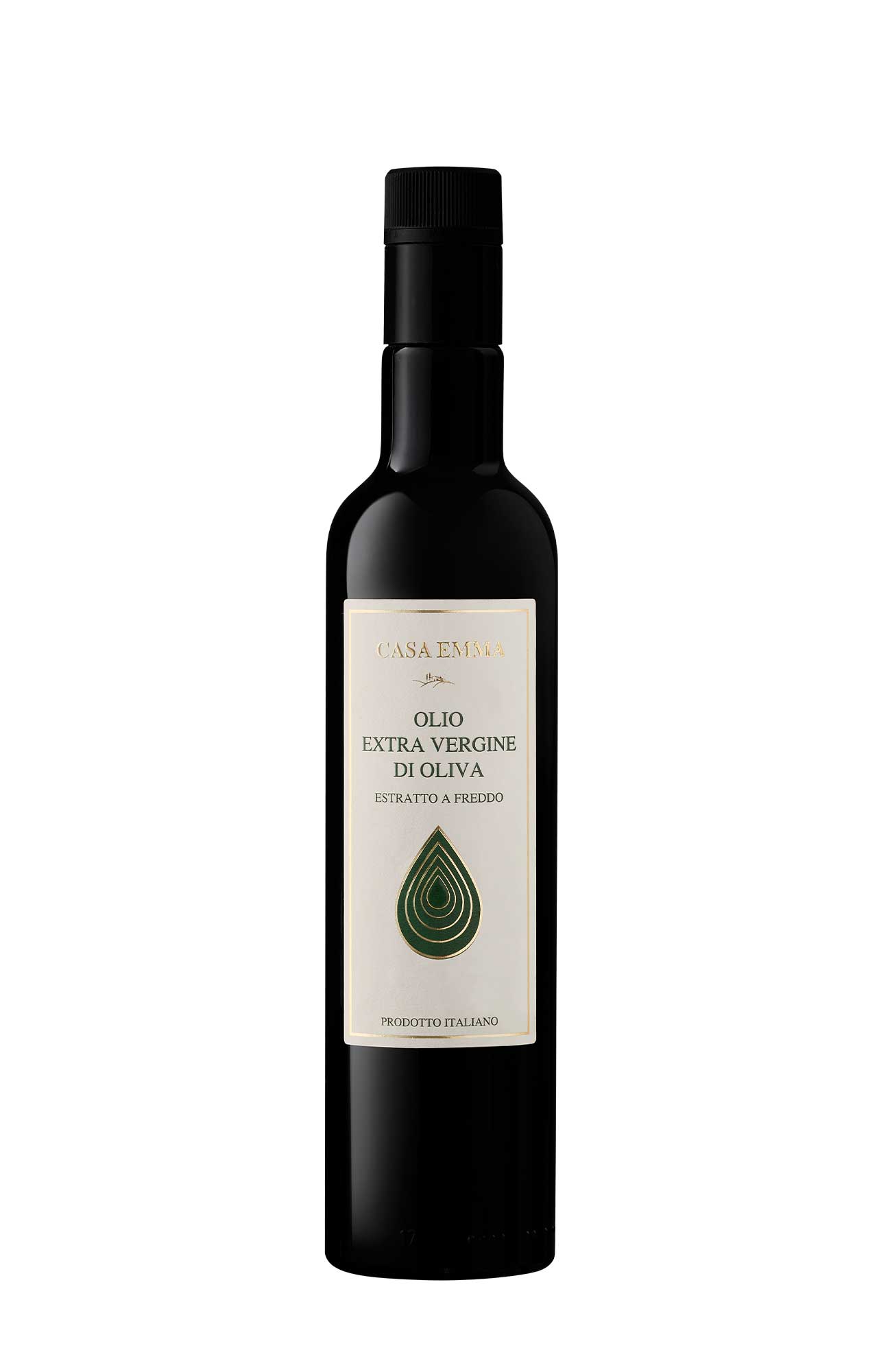 It is a top quality extra-virgin olive oil that captures the rich flavours of its origins. The entire production cycle takes place at Casa Emma, from olive harvest to bottling. The olive groves cover about three acres at the top of the hill, where the soil and climatic conditions are ideal. The olives varieties (Pendolino, Moraiolo, Leccino and Frantoio) are picked as they begin to ripen and, after being carefully selected, are immediately ground and cold-pressed. By using this method, the olives release all aromas and slightly spicy taste typical of Tuscan extra virgin olive oil.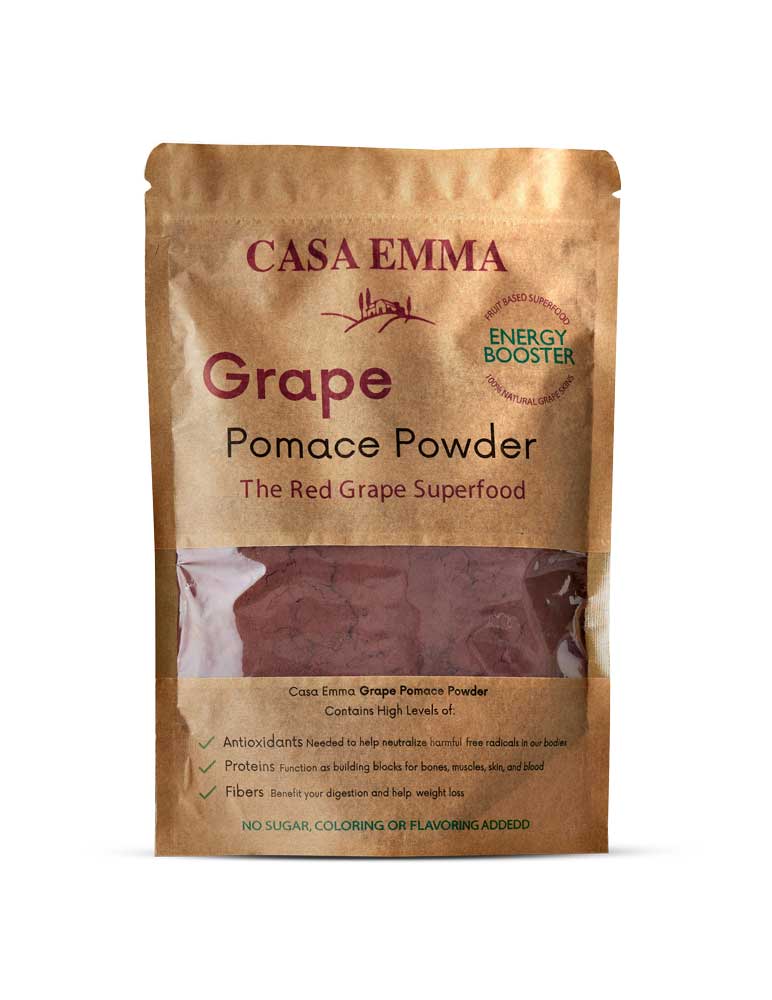 The new Casa Emma gastronomic excellence
Casa Emma, which has always stood out for its attention to innovation, experimentation, sustainability and recycling processes, has created a new gastronomic excellence: Grape Pomace Flour, a delicious high quality wine powder, with excellent nutritional properties. It is the result of a long and careful agro-scientific research in collaboration with the Università Cattolica del Sacro Cuore of Piacenza, to identify new ecological solutions about the management of grape skins, at the end of winemaking process. Grape Pomace flour is a delicious flour obtained through a process of drying and grinding the grape skins at a low temperature, to preserve and keep intact all the nutrients. It is a very high quality flour, rich in nutritional properties. Grape Pomace flour combined with other ingredients or foods, ennobles recipes and culinary preparations thanks to its high contribution of fibers, minerals and polyphenols. Grape Pomace Flour is a versatile flour that can be added to yogurt, smoothies, and also to your favorite vegetarian and meat sauces. It is also used together with conventional flours to create bakery goods like pasta, lasagna, pizza, breads (bagels, buns, biscuits and loaf breads), cookies, desserts (tiramisù, cheesecakes and pies), muffins and much more.